Pioneering the future of Shoemaking
Sustainability
Decarbonised, Tailored, Transparent Production
Sustainability is at the core of what we do. We keep zero stock of our products, therefore only manufacturing what meets the demand. We use high performance non toxic glues in production for shoe bonding, and our hyper-proximity model allows us to produce everything in house, which  minimises our carbon footprint.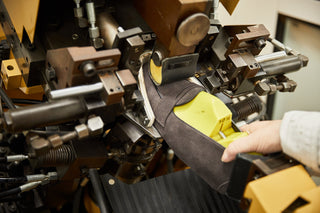 Technology
Savile Row's most technologically advanced maker
All of our shoes are made in the factory below our Savile Row shop in London. We are the first new shoe making factory in London in over 150 years, and we are proud to be bringing manufacturing back to the city. 
Want to see for yourself? Get in touch to join on of our factory tours.
Regenerative Manufacturing
A service entirely unique in the shoemaking space
Arthur Sleep's Regenerative Manufacturing service allows our clients to submit their own fabrics or materials to be fashioned into bespoke shoes of every silhouette currently offered. 
This enables our clients to extend the life of cherished items, creating a new purpose for  previously loved, deeply personal or historically significant materials of nearly all types. Our past projects have included damaged ski apparel, upcycled cashmere knitwear and a saddle used by three generations of horses from the Household Cavalry Regiment. Our only limit is your imagination.
Contact us to discover how we can reinvigorate your cherished textiles.