Arthur Sleep crafts luxury bespoke shoes for men, women and children directly from its high-speed Savile Row microfactory. Experience the highest quality of footwear, crafted with meticulous attention to detail and made exclusively for you, from London's first shoe factory in over a century.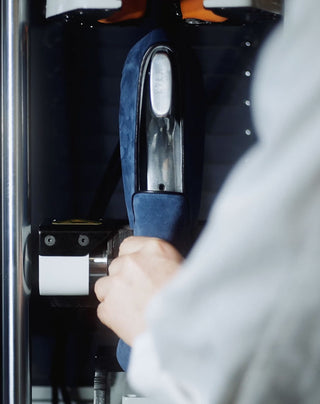 Pioneering the future of Industry 5.0
Arthur Sleep is a bespoke shoemaker driving a new era of decentralised, hyper proximity manufacturing. Its micro-factories, which require just 64 square metres of total floorspace, enable it to produce exquisite bespoke footwear within one day, in almost any location.
Bespoke
In the best Savile Row tradition, your shoes will be entirely personalised and made to measure, using a last made specifically and exclusively for you.
We want to make the process as easy and enjoyable as we can. We all know it can be hard to find the time to visit in store, therefore, we have created a 'Bespoke by Post' service where you can create your own last from the comfort of your home. Get in touch to get one delivered straight to your door.
Savile Row
Arthur Sleep is a bespoke shoemaker transforming the traditional Savile Row experience. It brings cutting-edge manufacturing technology to one of London's most prestigious postcodes.
unmatched craftsmanship
EXCLUSIVELY YOURS
meticulously handmade to resonate with your unique taste and individuality.
WORLDWIDE DELIVERY
FLAT RATE SHIPPING
SHIPPING
FAST & TRACEABLE
Fast and traceable shipping with trusted delivery partners.